If you are using Amazon Firestick to regularly watch movies or TV shows, then you need to make sure that the device is updated with the latest software. It is better to check for software updates on your Firestick occasionally so that your device will run smoothly.
Let's see how to check your Amazon Firestick for updates and install the latest software update.
How to Update Your Amazon Firestick
By default, your Firestick will check for software updates and download the same automatically if it is connected to the internet. However, you need to install that update manually. Let's see how to do that.
Switch on your Amazon Firestick and go to the Home screen. Then, select Settings (gear) icon on the right with your Firestick remote.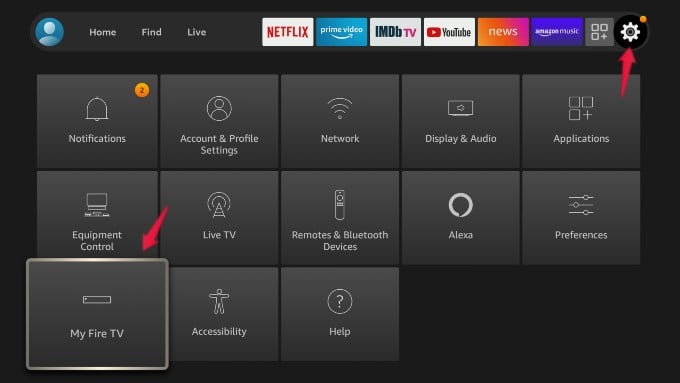 Now, you will see a list of options below the Settings. Scroll and select the option titled My Fire TV.
From the next screen, select About from the list of options.

Then, scroll down in the About menu and check if you see an option Check for Updates. If you click on that, you will see information about your current software version and the last time it checked for an update.

Instead of Check for Updates, if you see the option Install Update, then it means that new software is available. Go ahead and select the Install Update option.

Then, your Firestick will switch off for a few seconds and switch on again. And, you can see the message "Installing the latest software" on your TV screen with a progress bar. As soon as the installation gets completed, your Firestick will switch on and you can see the Home screen.
It might take 5 to 10 minutes or so for the Firestick to get updated with the latest software. Do remember that till the update is completed and Firestick reboots, don't unplug the power cable to your Amazon Firestick.
Related: A Complete Guide for Parental Controls on Fire TV or Firestick
Fix Unable to Update Firestick
For some reason, if you face any issue in updating the latest software to your, then try out the below steps.
Check Your Internet Connection
If your internet connection is not stable, then you might face some issues in updating your Firestick.
Using your Firestick remote, navigate to Settings > Network. Next, press the Play/Pause button on your remote to test the internet connection. Then, you will see the Connection Status displayed on your screen.

If the signal strength is not good, try to switch your router and turn that back on after a few minutes. Also, make sure that your internet connection is stable by checking that on other devices in your home.
In case you get a poor network connection on your other devices, then you need to contact your ISP.
Related: How to Get Peacock TV on Firestick
Check Storage on Your Firestick
Sometimes, it is not possible to update your Firestick due to insufficient storage. To check that, click Settings on your Fire TV Home screen and then navigate to My Fire TV > About > Storage.

You need to have at least 500 MB of storage to update the Firestick. If you see a value less than that, then delete the unused or less important apps to free up space on your Firestick.
Restart Your Amazon Firestick
If your device has enough storage and the internet connection is good, then disconnect the power cable to your Amazon Firestick. Wait for a minute or so and reconnect the cable to your device.
If any of the above-listed options don't work, then you can contact Amazon to resolve the issue. They can help you to update your Amazon Firestick to the latest version for the best experience.
Related: How to Delete or Uninstall Apps on Firestick and Fire TV
FAQ: Update Amazon Firestick
Does a Firestick need to be updated?
To unlock new features and ensure the smooth running of your Firestick, you need to regularly check for the latest updates and install them right away.
Does Firestick update automatically?
Amazon Firestick will check and download software updates automatically while it is connected to the internet. However, you need to install the software update manually.