Getting photobombed by someone or something is really annoying, and Google understands it. Google Pixel phones are sprinkled with little features here and there that are pretty big. The Magic Eraser is one of the best and most useful features I count as number one. The magic eraser on Google Photos lets you pull out and erase anything that ruined your photo. Be it some birds or your annoying cousin. The Magic Eraser, as of now, is a Pixel-only feature and you can use it if you have a supported Google Pixel phone.
Now, let us find out how you can use the Pixel magic eraser to remove objects and photobombing from your photos.
Google Photos Magic Eraser
The Pixel 6a, Pixel 6, and Pixel 6 Pro are the only phones with the magic eraser function. You also need Google Photos on these phones to use the Magic Eraser. If you have a Pixel 6 device, chances are you're already using Google Photos anyway.
It works pretty well most of the time, and you can remove any number of unwanted objects.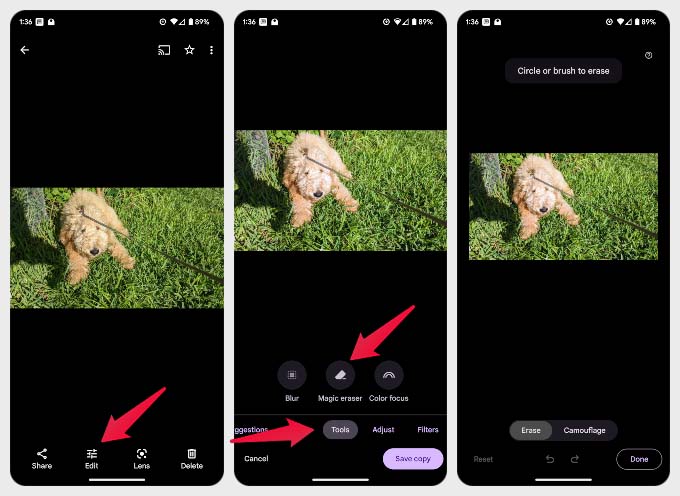 Open the Google Photos app on your Pixel.
Open the photo you want to remove an unwanted object from.
Tap on Edit.
Scroll to the Tools tab.
Tap on Magic eraser.
Make sure the switch at the bottom is toggled towards Erase and draw with your finger over the object you want to remove.
Watch the Google Photos magic eraser work its magic and tap Done.
Tap on the Save copy button to save the edited image.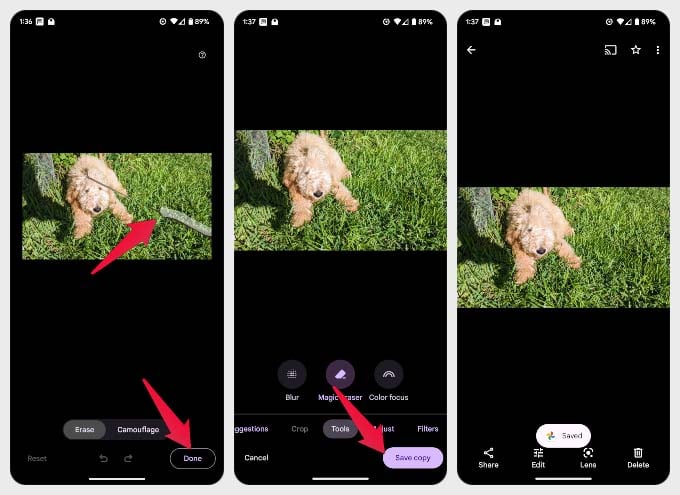 As you can see in the sample photos below, the Pixel 6 magic eraser works like magic. The dog's leash disappears like it never existed. You can try this with all objects, even people and pets, that appear in the background and ruin your photos.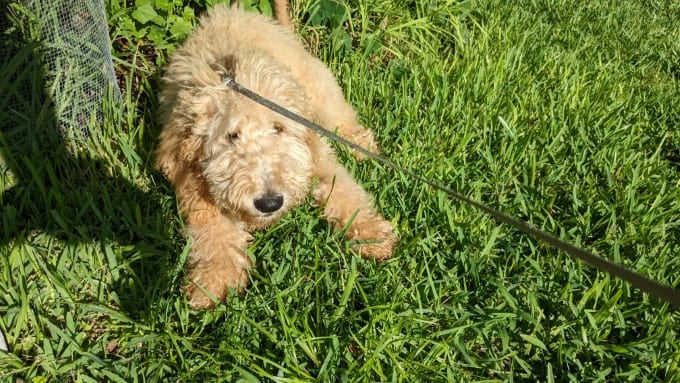 If you want to remove background from photos on Android, we have a list of the best apps and websites to remove background from a picture without Photoshop.
Related: 7 Best Ways to Boost Battery Life and Fix Battery Drain on Your Pixel Phone
Magic Eraser Alternative Apps
This is a pixel-exclusive feature you can't get for all Android phones. As usual, there are third-party apps to save us. These third-party Android apps will give you similar results to the Pixel Magic eraser. Here are the best Magic Eraser Apps for Android Users. Let's check a few of them.
Samsung's Object Remover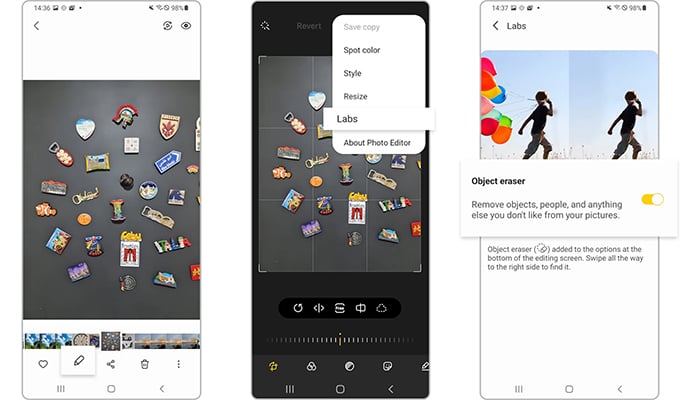 Seeing how Google released the Magic Eraser for its Pixel lineup, Samsung decided to also enter the competition with its own version of the magic eraser. Aptly named Object Remover, this tool does exactly what the magic Eraser does- removes objects and people from your images. Object Remover requires you to select or mark objects However, you need to understand that this feature is only available for Samsung services running Android 11 and above.
If you have a Samsung device that runs above Android 11, you can follow these steps to use the Object Remover
Launch the Gallery app on your Samsung device.
Select the image that you wish to remove objects from.
Tap on the Edit Photo option from the bottom of the screen.
Now, tap on the three-dot menu at the bottom right.
And finally, select Object eraser.
Simply highlight or mark the objects you wish to remove and tap on Erase.
The highlighted object will now be erased.
Cons:
Only Available for Samsung Devices
Key Features: Free to use | Comes Pre-installed | Ad-Free | Quick Image Removal
Download: Object Remover (Pre-Installed on Samsung Devices)
SnapEdit: Remove Objects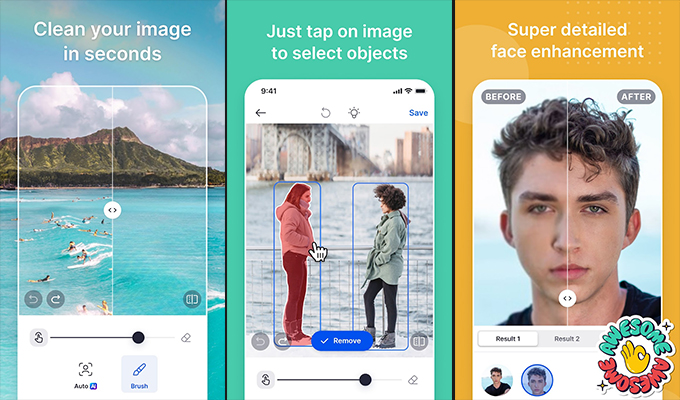 Have unwanted objects or people photobombed your images? Erase the worry forever with the SnapEdit: Remove Objects app. The app makes it simple and easy for new users to remove any object. Just like the other apps on his list, you need to brush over the objects you wish to remove and tap on the Remove button.
The app also makes use of AI to detect and remove unwanted objects from the background of your images. You can even follow these steps to remove the objects from the image for the SnapEdit app.
Launch the app and either upload an image or take an image with the inbuilt camera feature
Highlight and brush the objects you wish to remove.
Tap on the Remove button.
And finally, save your image to share anywhere you want
Pros:
Quick Object Removal
Compare Images
Key Features: In-Built Camera | Easy to Use | Free | Compare Images | Highlight and Remove | Image Enhancement | Face Enhancement Tools
Download: PlayStore (Freemium)
Retouch Remove Objects Editor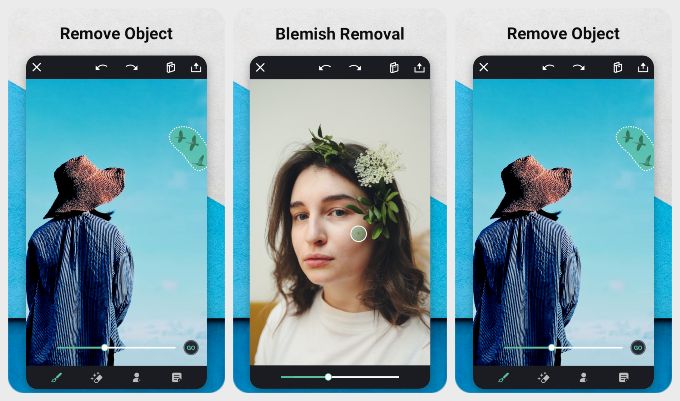 Retouch Remove Objects Editor looks eerily similar to another app on the Play Store, also on this list. It's hard to say who copied who, and the output quality is also very similar. The difference is that this app only lets you edit up to 3 photos for free.
However, the app has many extra features, just like other apps. The price for the app is rather steep for what it does. The app also reduces the size of saved images to 1080p, which is not great for a photo.
Cons:
Only 3 free edits allowed
Steep pricing
Only 1080p image output size for free
Key Features: Remove objects | Blemish removal | Change background | Object cloning
Download from PlayStore: Retouch Remove Objects Editor
TouchRetouch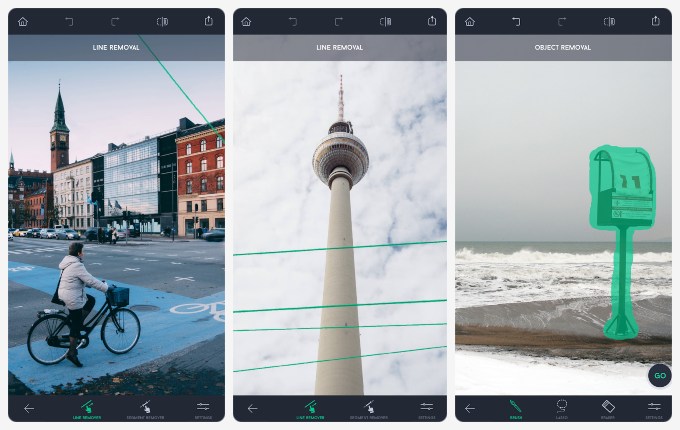 TouchRetouch is a straightforward app, and so is the financial model it opts for. There are no ads or recurring subscriptions. You pay upfront, and the app is all yours, without any ads. What you get for that, though, is an impressive app.
It is perhaps the best option if you're looking for a Google Photos magic eraser alternative that does not require a Pixel 6. It can remove objects, lines, meshes, blemishes, etc. The app is also smarter about edge detection and can even edit 360° images.
Pros:
Remove objects from the background and foreground
Edits 360° images
No ads
Key Features: Remove objects, lines, meshes, blemishes | Supports 360° images | Good edge detection
Download from PlayStore: TouchRetouch
The new magic eraser feature on Google Pixel is pretty amazing. This is a must-have future for all Android users. It takes barely two or three taps and removes any background objects you want to remove from a picture. It looks simple, yet it's anything but. You can get Pixel Magic eraser functionality on any Android with third-party apps. Let's get some of them and check them.
Some of them just don't work or will beat you with ads. Every app on this list has been personally tested, and while they might not always give you the perfect results, neither does the Google Photos magic eraser feature on Pixel. If you think we've missed an app that should be on this list, let us know in the comments below.
FAQ: Pixel Magic Eraser
Can you get Google magic Eraser?
Magic eraser is a feature that's exclusive to the Pixel 6 lineup for now, so that includes the Pixel 6a, Pixel 6 and the Pixel 6 Pro. It'll also be available, of course, to any newer Pixel devices. While Google hasn't committed to anything, considering their track record, we expect the feature to available for Google Photos users on any Android some time in the future.
Is Google Magic Eraser any good?
While it does work like magic, it should be noted that it is indeed not magic. Magic eraser works well most of the time, but there are situations where it will not work as well as you hope. That can result in an unnatural warping of the background.
How to get Google Photos Magic Eraser
The feature is exclusive to Pixel 6a, Pixel 6 and Pixel 6 Pro and newer devices. While there is a lengthy workaround to get the feature on other Pixel phones, there's nothing of the sort for other Android phones. Even the lengthy workaround for Pixel phones does not really work. It requires installing a specific version of Google Photos, which is already outdated.
How do I erase part of an image?
If you have a Pixel 6 or newer with Google Photos, you can remove objects from the background on any photo using the Pixel magic eraser feature. The steps to do so have been described above in detail.