Do you know you can ask AirPods battery level to Siri? If you have new AirPod from Apple. just ask Siri "What's AirPods battery level?". No need to check on the phone display or widget area to see AirPods battery status. This is convenient when you are listening to music or in your workout session. Just tap on AirPod and ask Siri, What's AirPods battery level?. Siri will answer through your AirPod, the status of your AirPods and AirPod case battery level.
Let's see how to enable this interesting feature on your AirPod and check the battery level of AirPods with a Siri command.
Editor's Note: We've tested this with the latest AirPods from Apple, AirPods 2. If you don't have AirPods 2, you can get one from Apple, BestBuy, or Amazon and accessories.
Setup AirPod to Work With Siri
Well, Apple integrated Siri in the latest version of AirPods, AirPod 2. You can ask and execute Siri commands with your new AirPod 2. There is no need to take your phone to make calls. Or you don't need to keep your phone close to you to make calls. You can enable Siri on new AirPods to make calls. Before you try the Siri commands on AirPods, you have to configure Siri settings to work with AirPod 2.
Make sure you connect iPhone to new AirPods before you follow the steps here. Once you complete the initial setup, follow the steps to activate Siri on AirPods 2.
Open iPhone Settings.
Tap on Bluetooth to open Bluetooth Setting.
Tap on "i" next to AirPods from the "My Devices" list.
Select Right or Left AirPod to change Double-tap setting.
Select Siri from available functions.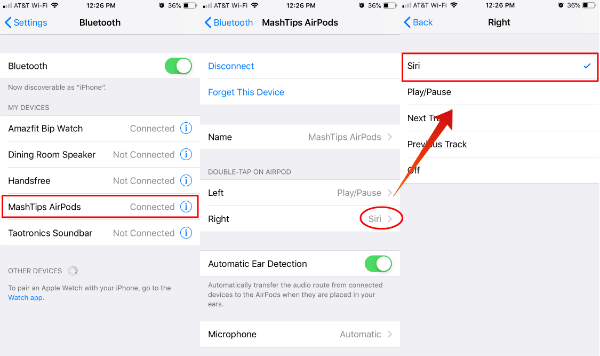 Now your AirPods can communicate to Siri. We have selected right AirPod Double-tap to activate Siri as you see on the screenshots. If you did the same, now you can double tap on right AirPod and ask Siri to call anybody or execute a Siri command.
Enable Siri on Locked Screen
Now you enabled Siri on new AirPods. However, you have to activate Siri to work on the lock screen to function all Siri commands. Sometimes, your phone may be away from you and locked out due to inactivity. Your Siri commands will not work at this point with a locked screen. Now let us see how to enable Siri on the locked screen.
Open iPhone Settings
Scroll down and tap on Siri & Search
Toggle "Allow Siri When Locked" to ON.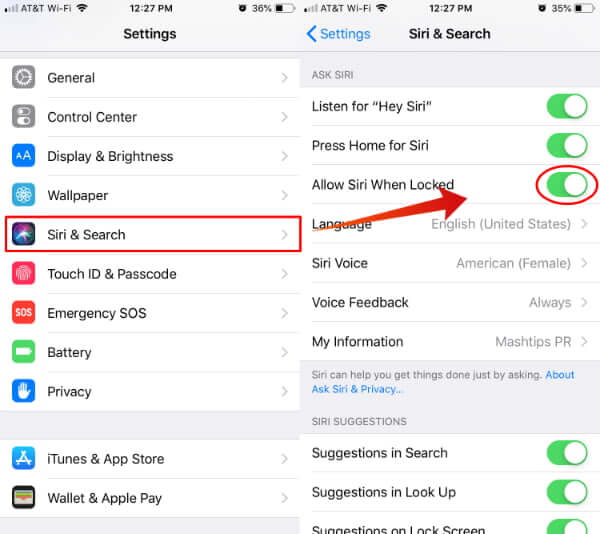 You're good to go. Siri will work even your iPhone is locked. Now you can ask Siri commands through your AirPod. Siri will respond to your command in both locked and unlocked screen.
Ask Siri "AirPods Battery Level"
AirPod 2 is coming with a built-in Siri functionality. You can ask Siri through your AirPods. The connected iPhone or iPad device will process your voice command and answer you. Now the million dollar question;
Can you ask Siri AirPod's battery level?
Yes, you can. iOS will reply you the AirPods battery status through AirPod. You don't need to check in the iPhone widget or iPhone Bluetooth screen to check the battery level. Just ask Siri, "What is AirPods battery level?". Siri will tell you the battery status of your left, right AirPod and the AirpPod case. We have checked with the following Siri commands to check AirPodsm battery level.
What's my AirPod battery level?
What about my AirPods battery level?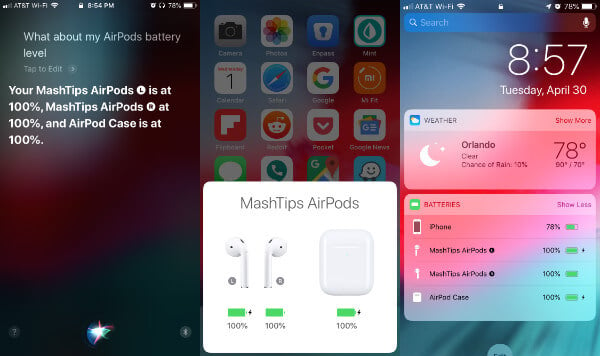 Siri will answer to your question depends on your AirPods battery. If you have different battery power on two AirPods, Siri will answer in detail with each AirPods battery level. She is smart enough to mention the AirPod case battery level too.
Related: What Does AirPods Status Lights & Sound Alerts Mean?
Siri Commands to Get AirPods Battery Status
Siri can show you more details in different scenarios. You can ask Siri the same question about AirPod's Battery Status and you may get the different answers based on the battery status of Airports and AirPods case.
Let's see three different battery status report we got with Siri in three different scenarios. All of these Siri responses, we have asked: "What's my AirPods battery Level?".
Get Battery Status of AirPods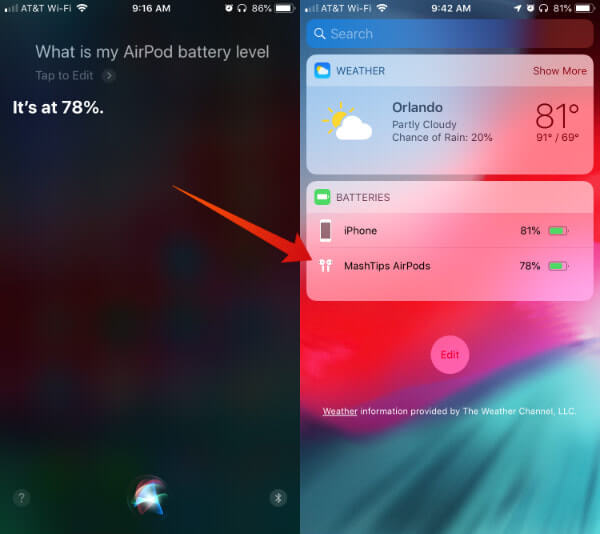 Siri responded with AirPods battery level. There is no sperate status for AirPods and AirPods case. Both AirPods were the same battery level and AirPod case was away from the iPhone to detect the battery level.
Get Battery Status of Left & Right AirPods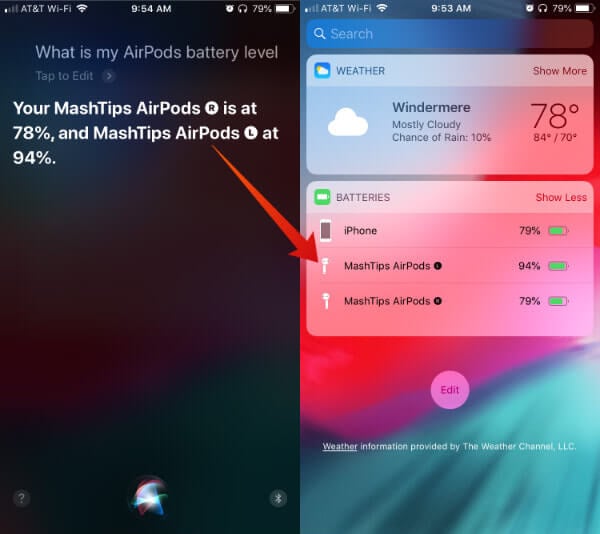 Siri responded with the battery status of my each AirPods. Since I have a different battery level for the left and right AirPods. The AirPods case was away from the phone.
Related: How to Use Apple AirPods with Android?
Get Battery Status of Left AirPod, Right AirPod, and AirPods Battery Case.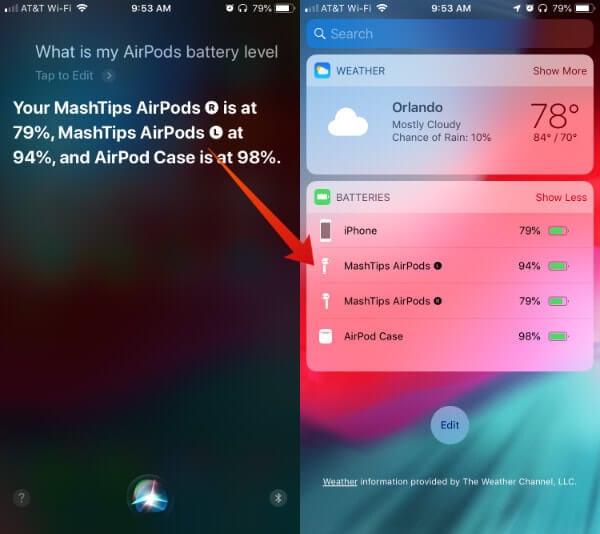 Your iPhone is smart enough to answer you based on the AirPod status. In his case, Siri responded with three battery status. Since the left AirPod, right AirPod and AirPods case battery level were different and all devices were in the Bluetooth Range of iPhone.
Related: How to Connect AirPods to MacBook?
In short, iOS is smart enough to detect the battery level and respond with Siri based on your device's battery level. There are a couple of other solutions to check the battery level of your AirPods. However, this solution is unique and you don't need to have your iPhone nearby to check the battery level. Just ask Siri and she will tell you the AirPods battery level through your AirPod.