Your Apple watch can display the battery status of AirPods. How do you make sure your AirPods have enough battery juice to complete the phone call? Sometimes, you may want to check the battery status while listening to music on Apple Watch. You don't need to grab the iPhone all the time to check the AirPods battery level.
You can check the AirPods battery life right on the Apple Watch without using your iPhone. Let's see how to do it.
Before you begin, we are assuming that you are already connected your AirPods with Apple Watch. Now you have to follow the steps below to check AirPods battery percentage;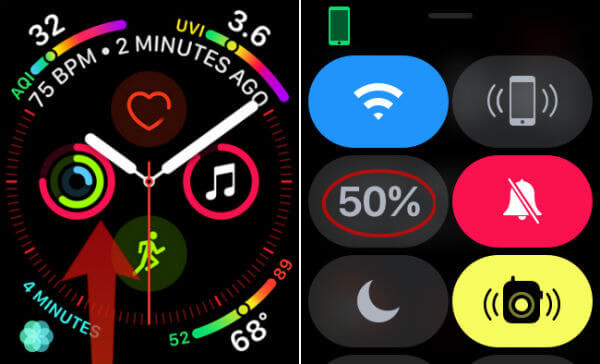 Swipe up on Apple Watch for Control Center.
Find the Apple Watch battery percentage icon.
Tap on battery percentage icon.
Scroll down to see AirPods and AirPods Case battery level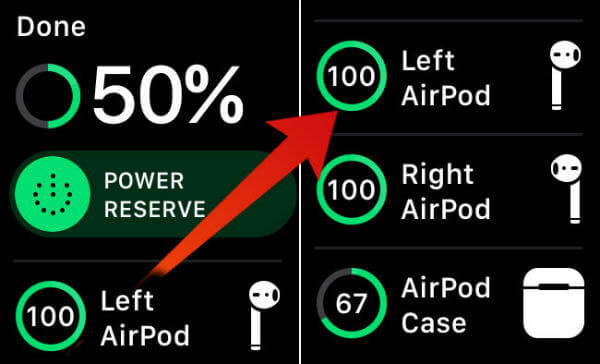 Apple Watch will display the battery percentage of AirPods and AirPods case. It will show you each devices battery status if the left and right AirPods have a different battery level or different charging status.
There is an alternative solution if you own the latest Airports, AirPods 2. AirPods 2 support Siri and you can ask Siri direct;
"Hey Siri, What's my AirPods battery level"
Siri will reply back with the battery status of your AirPods. You can see step by step description in this article to check the AirPods battery level with Siri.
Check AirPods Battery Level on Apple Watch
If you find any difficulty to see the AirPod's battery status on Apple Watch, make sure you connected AirPods to Apple watch. You can check the AirPlay icon on the Apple Watch Control center. Your AirPods will be connected if the AirPlay icon is in blue color. Please tap on the AirPlay icon if to connect to the AirPods if it is in grey color. Once you connect the AirPods, then you will see AirPods battery status on Apple Wath. That's pretty much to check the battery status on Apple Watch.