Are you going to use your old Android tablet as a digital photo frame? Forget about using external memory cards or copying photos to your Android tablets. There are alternative solutions from Google Play Store for your Tablet. Here you can see the article explaining How to convert your old Android Tablets into a digital photo frame with our any additional cost. When you use tablets as your digital photo frame, you incorporate more features with your digital frame and you don't need to use a local photo or SD Cards to display the photos.
Remote Sharing is another nice feature that you can utilize with Android tablets. When you are away from your family, you can still display your recent photos to your family members using Android Digital Frame. You have to create a shared folder for your family and set your tablet to display photos from this shared folder. Once you set this folder, you just need to upload your recent photos to Flickr, Dropbox (get a free Dropbox account) or Facebook anywhere from the world and these photos will display in your home Digital Photo Frame.
There are a couple of handy applications in Google Play store to help you out for this Digital Photo Frame to stream photos from Facebook, Flickr or Dropbox to Android for a picture frame.
Dayframe
Dayframe turns your Android device into a digital photo frame that works with your favorite photo sharing services. This app can browse and share photos between Facebook, Instagram, Tumblr, Google+, Dropbox, Flickr, Twitter, 500px, and more.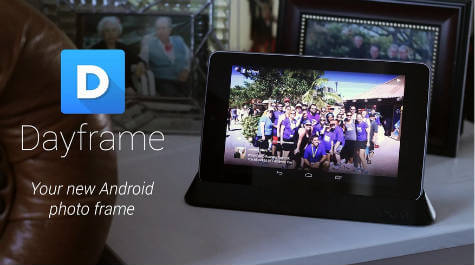 Dayfarme allows you to select the best time to play your photos as a screensaver, along with settings for network, battery level, and power source. This timer feature prevents your Tablet to run all night or drain your battery or consume bandwidth. Dayframe can use with Chromcast as a photo viewer/slideshow app to stream the photos on your HDTV. You can control what's playing on Chromecast by swiping forward and backward, zoom to fit or fill, pause, shuffle, and even like photos.
Download from iTunes
Digital Photo Frame Web
This application from Google Play Store can turn your Android device into a digital photo viewer showing a slideshow of photos from Flickr, DropBox, Facebook or local files. Digital Photo Frame can randomly display the photos from the folder and arrange them on the screen according to the selected layout.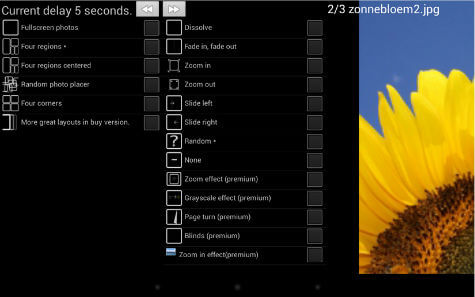 This free application offers additional features to display thumbnails from a local folder, a full-screen view can display four photos in the four corners, several transition effects etc. This app is optimized for tablet (HD) use, but also works on your Android phone.
Download from iTunes
When you display photos from online services like Flickr, Facebook or Dropbox your photos will always be up to date, and no need to use traditional SD cards to display photos.